Our broad breasted white turkeys are 100% pasture-raised which means they have more white meat and the cooking characteristics that you're familiar with; while also providing that rich, nutritious flavor provided by the pasture lifestyle. Their feed is milled locally and blends corn, oats, soy-meal, wheat, and the right mix of vitamins and minerals; we do not use antibiotics or growth hormones.
Click on any product to see it's price per pound. Whole Holiday Turkey is $5 lb. (less deposit)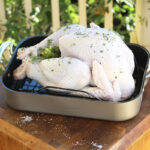 Quick View
$5 LB. 

SMALL: 10 - 13 lbs.  

MEDIUM: 14 - 17 lbs.   

Sold Out

LARGE: 18 - 22 lbs.

EXTRA LARGE: 23 PLUS lbs.
Neck & Giblets included
Deposit will be applied toward final price.
Select Thanksgiving, Christmas or Other at checkout.
Click here for more details about picking up at the farm.
All sizes WILL ALSO BE AVAILABLE to order and pick up at any Portland area
New Seasons Market.