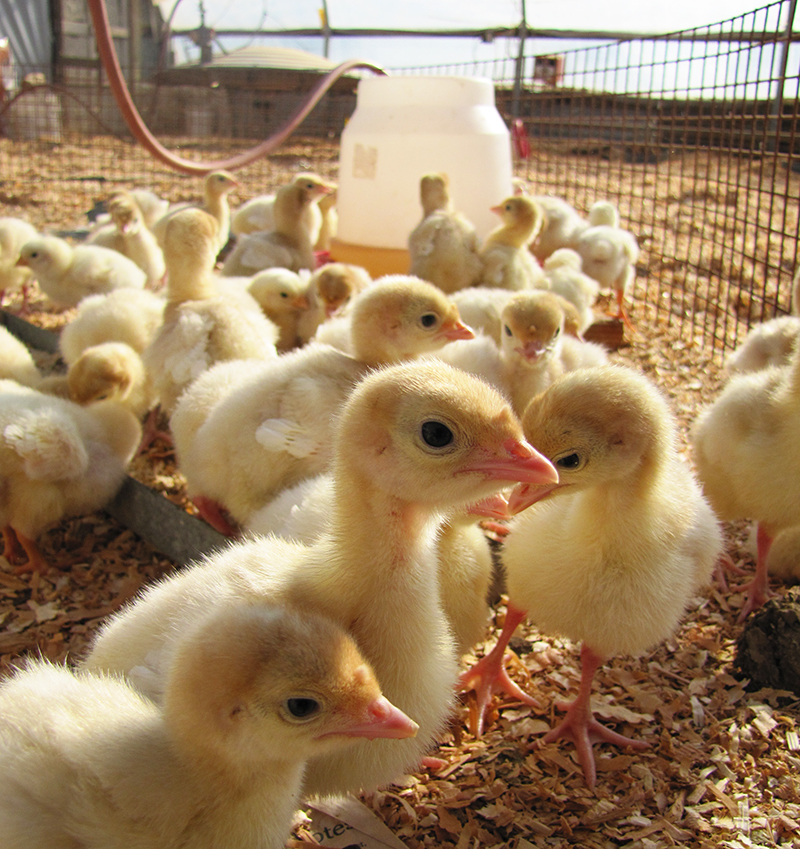 Moving onto Pasture
After brooding, our turkeys move to open paddocks (approximately 100sqft per bird) with central mobile shelters, range feeders, and waterers. This shelter setup is moved twice weekly to another paddock. We use electric fences and portable netting systems to keep predators out.
Since our rotational, pastured model requires that poults go on grass at a young age, the growing season for turkeys is primarily in the warm summer months from mid-May until early October.  This also happens to be the prime growing season for our pastures. This is a vital element in our method since turkeys receive up to 20% of their diet from the lush grasses and bugs they forage on, while providing nutrients to the soil in their droppings.  Changing the birds' pasture regularly moves them away from their waste while providing fresh vegetation for them to explore and eat, while providing ample an pasture enclosure does away with overcrowding and an environment prone to disease and pecking.  By fostering healthy pasture conditions, we reduce stresses on the birds and so eliminate the need to rely on antibiotics.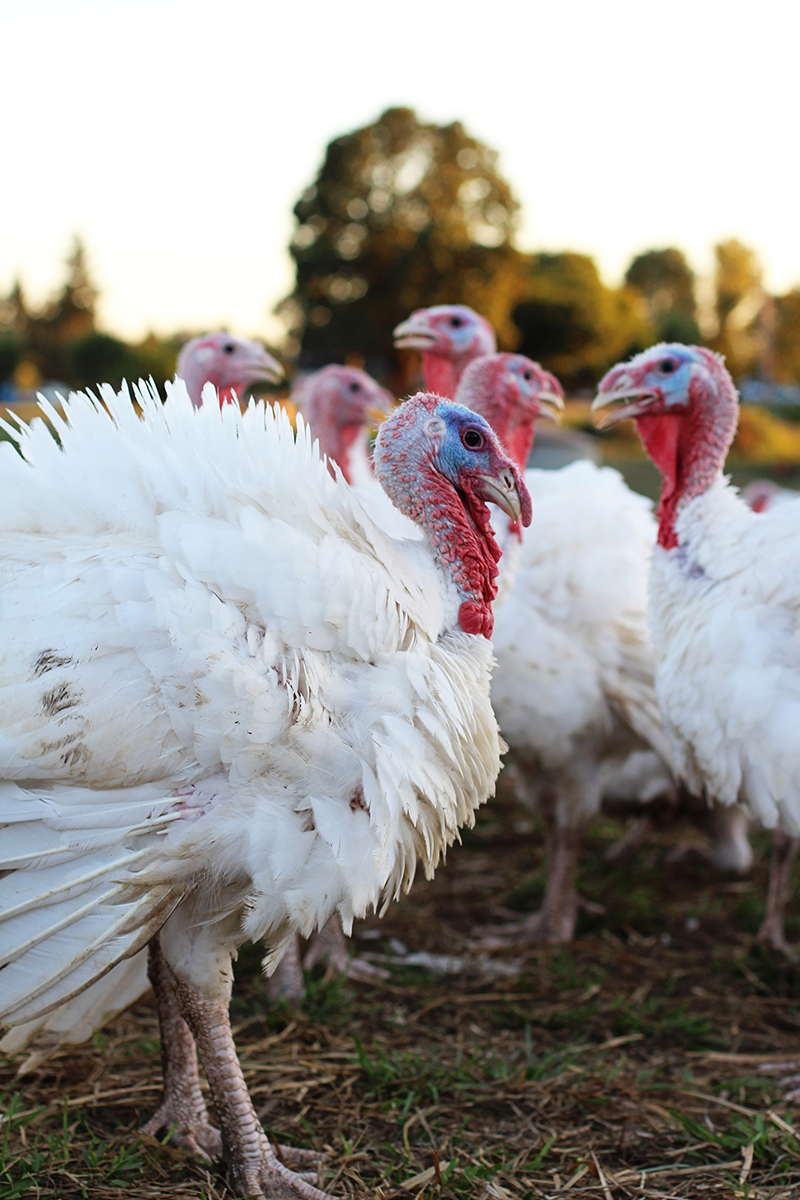 Brooding Turkeys
Because we are concerned about product and take pride in our birds, we brood our turkeys on farm.  The birds are delivered to our farm as 2 day old poults and then housed in a greenhouse brooder for 5-6 weeks until they are feathered out and old enough to be moved onto pasture.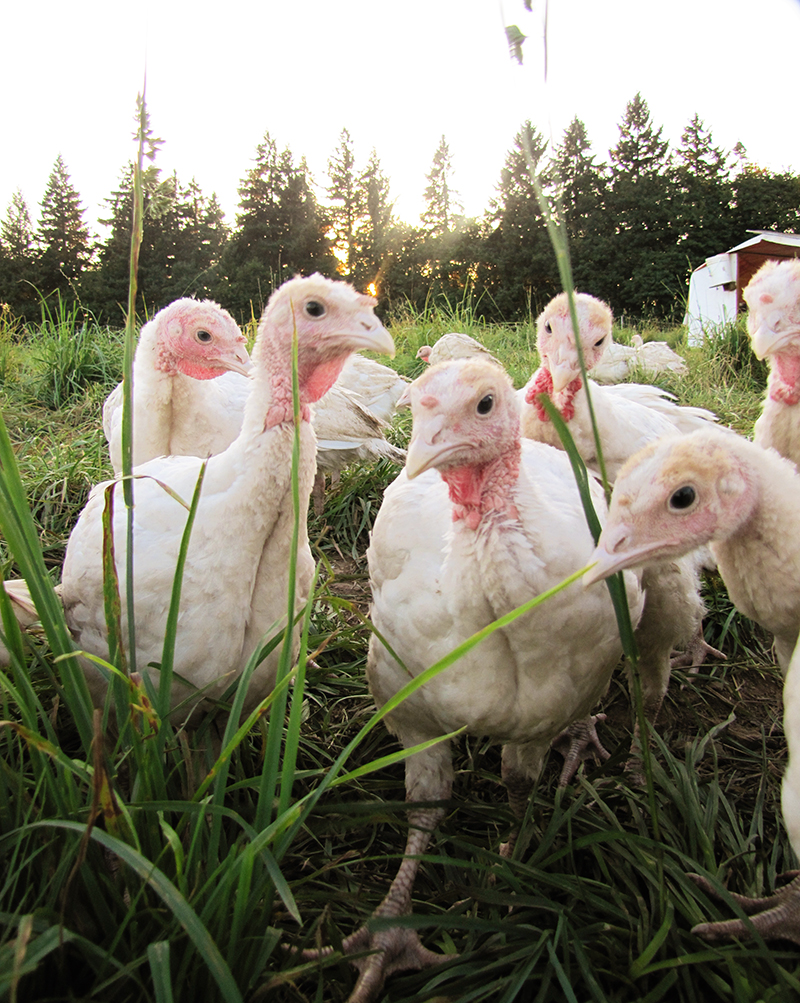 Pasture-Raised Turkey
While organic is all about the DNA of the organisms consumed by an animal, pasture-raised is all about their lifestyle–the type and variety of vegetation they consume, the amount of time they spend out of doors, the quality of their environment, the extent of their roaming area, and the amount of new forage they have access to.  All of this impacts the quality of the meat.
Pasture-raised turkey is rich in flavor and nutrients.  All the exercise and clean living produces a lean, flavorful turkey that is tender, juicy, all natural, and antibiotic free.  Our small batches are hand-processed, water chilled, and then frozen for the holidays.  We never put in any additives.
Grass is not fatty.  Eating grass from pasture also naturally monitors eating since the birds can't eat beyond what is there.  Because of this, and because grazing requires the animal to move, pastured meats are lower in fat than their confinement equivalents.  They are also richer in Omega-3s, CLA, and Vitamin E, while decreasing pro-inflammatory Omega-6 fatty acids.  Combine this with turkey's naturally lean profile and availability in both cuts and ground, and you have a protein that can't be beat!
Finished in Late Summer
We finish our birds on pasture during the late summer. They are then frozen for the Thanksgiving and Christmas holidays. Why frozen and not fresh you may ask? There are a couple reasons. Mainly, our Oregon weather turns wet and cold in the Autumn and turkeys grow and thrive in warm, dry conditions (thus why so many turkeys are grown in California). So we have the choice of finishing them outdoors on pasture earlier in the season or finishing them inside, where they wouldn't have the benefit of the pasture, so we could have fresh birds for Thanksgiving. We think the pasture is the key element in great turkey! Also, the USDA definition of "fresh" poultry is that it never goes below 26*. So many industry turkeys can be held at 26 degrees for months before being sold as "fresh" holiday birds.
For more information, please visit www.fsis.usda.gov.