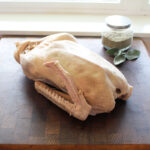 Quick View
$8 LB.

Small:  6 - 8 lbs.

Please specify when you want to pick up in the Notes Field.
WILL ALSO BE AVAILABLE through our exclusive distributor New Seasons Market with convenient locations throughout the Portland Metro area.
Reserve your Goose now for the Holidays. They will be ready at the end of November.