---
We hope you are all doing well during this 'Stay at Home'!
Our birds are Pasture Raised with ample space, fresh air, sunshine, open pastures & lots of exercise. They are flavorful, juicy, tender, more nutritious from the pasture and always antibiotic free. They are locally raised in St. Paul, Oregon (30 minutes south of Portland) by our Family Farm with 16 years experience in pasture poultry. We raise our birds from chicks/goslings all the way through to processing right here on our farm. You can purchase directly from the farmer and pick up your bird right where it was raised just for you.
'Barnside' Pick Up
Some of you have reached out to us this week asking if we are offering turkey during this time so we thought we'd join the curbside movement… except we'll call ours 'barnside' pickup. We ourselves have been enjoying turkey in many family dishes, and even more so now that we have limited options elsewhere. Our current favorites are the cutlets and cubes because they're versatile and tasty in so many dishes! We have them conveniently packed in 2 lb. bags which means they thaw and cook quickly. Send us an email with your order (or order online) and we'll put together your products, send you a digital invoice and schedule a pick up time. Stay well!
– Mark, Catherine, Mariano, Andrew and all the folks that make this happen at Champoeg Farm
Available Products
1 lb. ground turkey – $5.50 each
5 lbs. ground turkey – $25.00 each
2-3 lb. breast cutlets – $7 lb.
2-3 lb. cubed breast – $7 lb.
Boneless Skinless Breast Roast Netted – $6.50 lb.
Single Breast with Skin – $6.50 lb.
Turkey Tenders – $6.50 lb
Whole Thigh – $5 lb.
Drumsticks $3 lb.
Whole Chicken – $4.50 lb.
---
To receive periodic emails about our Pasture Raised Turkeys and our farm outside Portland, Oregon near the small town of St. Paul.
---
BROWSE OUR PRODUCTS
Click on any product to see the price per pound. Whole Turkey is $5 lb and Whole Goose is $8 lb. (deposit will be applied toward final price)
Pick up location for all items ordered on our site is at the farm.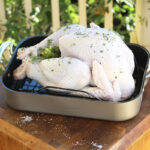 Quick View
$5 LB. 

SMALL: 10 - 13 lbs.  

MEDIUM: 14 - 17 lbs.   

Sold Out

LARGE: 18 - 22 lbs.

EXTRA LARGE: 23 PLUS lbs.
Neck & Giblets included
Deposit will be applied toward final price.
Select Thanksgiving, Christmas or Other at checkout.
Click here for more details about picking up at the farm.
All sizes WILL ALSO BE AVAILABLE to order and pick up at any Portland area
New Seasons Market.