---
---
To receive periodic emails about our Pasture Raised Turkeys and our farm outside Portland, Oregon near the small town of St. Paul.
BROWSE OUR PRODUCTS
Click on any product to see it's price per pound. Whole Holiday Turkey is $5 lb. (less deposit)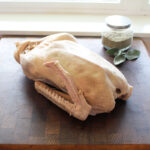 Quick View
$8 LB.

Small:  6 - 8 lbs.

Please specify when you want to pick up in the Notes Field.
WILL ALSO BE AVAILABLE through our exclusive distributor New Seasons Market with convenient locations throughout the Portland Metro area.
Reserve your Goose now for the Holidays. They will be ready at the end of November.