---
We offer Pasture Raised Goose and Turkey for Christmas!
Our birds are Pasture Raised with ample space, fresh air, sunshine, open pastures & lots of exercise. They are flavorful, juicy, tender, more nutritious from the pasture and always antibiotic free. They are locally raised in St. Paul, Oregon (30 minutes south of Portland) by our Family Farm with 16 years experience in pasture poultry. We raise our birds from chicks/goslings all the way through to processing right here on our farm. You can purchase directly from the farmer and pick up your bird right where it was raised just for you.
You can pre-order a Whole Goose or Turkey for pickup at the farm before Christmas. We also offer Goose and Turkey Parts.
We are grateful for each and every one of our customers who take the time to support our farm by purchasing our poultry (turkey, chicken and goose) either directly from us or through one of our committed partners such as New Seasons Markets and Grand Central Bakery. We look forward to another wonderful holiday season.
– Mark, Catherine, Mariano, Andrew and all the folks that make this happen at Champoeg Farm
---
To receive periodic emails about our Pasture Raised Turkeys and our farm outside Portland, Oregon near the small town of St. Paul.
---
BROWSE OUR PRODUCTS
Click on any product to see the price per pound. Whole Turkey is $5 lb and Whole Goose is $8 lb. (deposit will be applied toward final price)
Pick up location for all items ordered on our site is at the farm.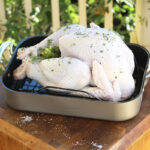 Quick View
$5 LB. 

SMALL: 10 - 13 lbs.  

MEDIUM: 14 - 17 lbs.   

Sold Out

LARGE: 18 - 22 lbs.

EXTRA LARGE: 23 PLUS lbs.
Neck & Giblets included
Deposit will be applied toward final price.
Select Thanksgiving, Christmas or Other at checkout.
Click here for more details about picking up at the farm.
All sizes WILL ALSO BE AVAILABLE to order and pick up at any Portland area
New Seasons Market.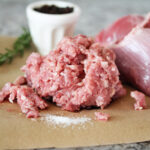 Quick View
$5.50 LB. 

1 lb. Pack

(Not Seasoned)
Our Ground Turkey is made from whole muscle with approximately a blend of 70% dark meat and 30% light. It is versatile and makes great burgers, sausage or in place of ground beef.