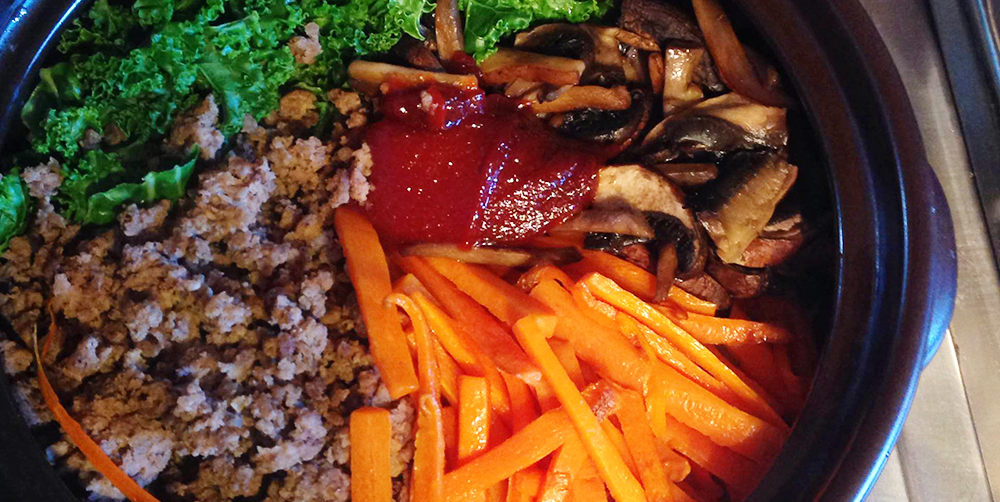 Submitted by Maizie Redner
An accidental tumble down the tokki-hole of Korean pop culture has hooked me on more than just kdrama and Asian bands.  After watching Koreans on screen chug soju and call out for kimchi time after time, I decided I needed to try Korean food for myself.  Luckily, there is a lovely Korean restaurant, The BiBimBap House, in Salem, which quickly trumped every other international cuisine for me.  Pretty soon, though, my friends and I were wanting to try some of our favorites at home: fittingly, since one of the glories of Korean cooking is that it is intrinsically homey.  Below is a romp through one of my new favorite quick-fix dinners: dolsot bibimbap, or vegetables and rice in a hot stone bowl.
The idea of dolsot is simple: a mixture of sauteed vegetables and meat served on a bed of cooked rice in a piping hot stone or cast iron pot, then stirred together, preferably with a few heaping spoonfuls of Korean red pepper paste.  The pot sears the rice, creating a golden crust. You can use whatever ingredients you like, but in general, for a good dolsot, you want to start with a good protein. One of the reasons I love working with pasture-raised ground beef is the low fat content—no heavy grease to mess around with!  From there we add a root vegetable, and a green, and you want them in a variety of colors. For good measure, you can even crack an egg over the veggies and mix it in–in fact, the test of whether the pot is hot enough is if it cooks the egg. I have given fairly basic preparing instructions; you can, however, enhance your ingredients by sauteeing them in more flavors–some soy sauce, for example, or Korean barbecue marinade.
Dolsot is garnished with Korean red pepper paste, a thick, sticky spread procurable at Oriental markets (I go to Wing Wa Market on NE Lancaster and Silverton in Salem).  Korean red pepper has more story to it than our red peppers, so I wouldn't recommend hot sauce as a substitute. If you want, you can mix a few tablespoons of the paste with water, some sesame oil, and a bit of sugar to create a smoother-tasting sauce.