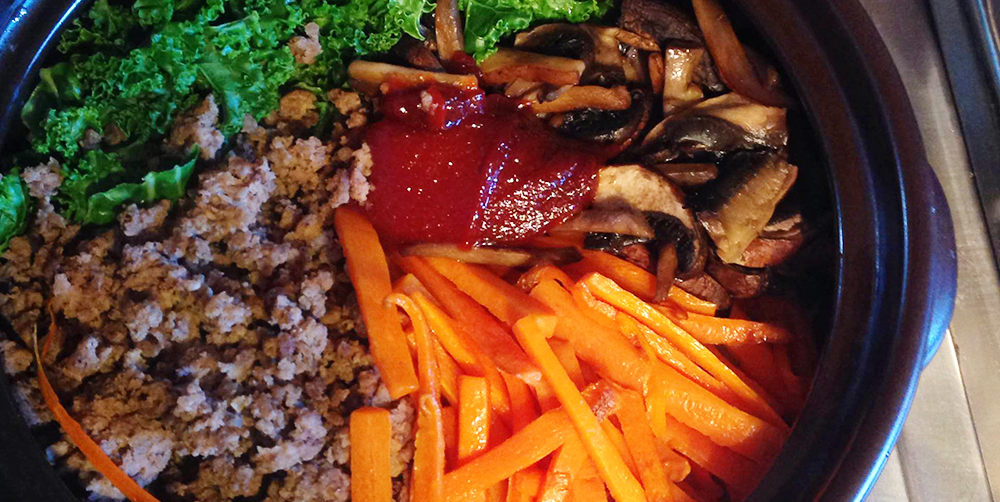 Dolsot is garnished with Korean red pepper paste, a thick, sticky spread procurable at Oriental markets (I go to Wing Wa Market on NE Lancaster and Silverton in Salem).  Korean red pepper has more story to it than our red peppers, so I wouldn't recommend hot sauce as a substitute. If you want, you can mix a few tablespoons of the paste with water, some sesame oil, and a bit of sugar to create a smoother-tasting sauce.
Korean Beef Hotpot
Ingredients
1 cup of rice (short or medium grained is best because it creates sticky rice)
.5 - 1 lb of beef (ground or in strips)
2-3 carrots, julienned (matchsticks)
3-4 leafs of kale or your preferred green (broccoli rabe is amazing)
1 cup of chopped mushrooms
or any vegetables of your choice
sesame oil
sesame seeds
garlic
a stone stove-top pot or cast iron pot/skillet
Korean red pepper paste
Instructions
Rinse and cook the rice till a bit dry.
Saute the beef in sesame oil till cooked through. You can add garlic for flavor.
Start heating your hot pot. If using a stone bowl, rinse or soak it first, then heat it on low for about 5 minutes before increasing the temperature. I recommend letting it keep warm on low till your rice and vegetables are almost ready, then increasing the temperature to medium heat. You want the pot hot enough for the rice to sizzle when you add it.
Saute each of the vegetables in sesame oil. Salt lightly. Set aside.
Prepare the greens and then toss with sesame seeds. You can just blanch them in hot water, or you can saute them in butter and garlic. Or you can blanch and then saute them. Broccoli rabe is particularly nice this way.
Add some sesame oil to the pot, and increase the heat to medium.
Once the pot is hot (throw a bit of rice into the pot and see if it sizzles), spoon the rice into it, pressing it down to create a bed. Then arrange your meat and vegetables on top, in discrete sections. Leave the pot on the stove for 10 minutes or so to allow the rice a chance to start crusting.
Move the pot to the table, and mix the vegetables and rice together. Crack an egg over if desired; add hot pepper paste.
Dol sot is eaten with chopsticks and a spoon for the brave and daring, or else just with a spoon.  It can be eaten directly out of the pot or scooped into individual bowls.  It is particularly nice served with kimchi, spicy pickled cabbage, or cold pickled cucumbers–the cold, tangy pickle provides a nice counterpoint to the warm, filling dish.