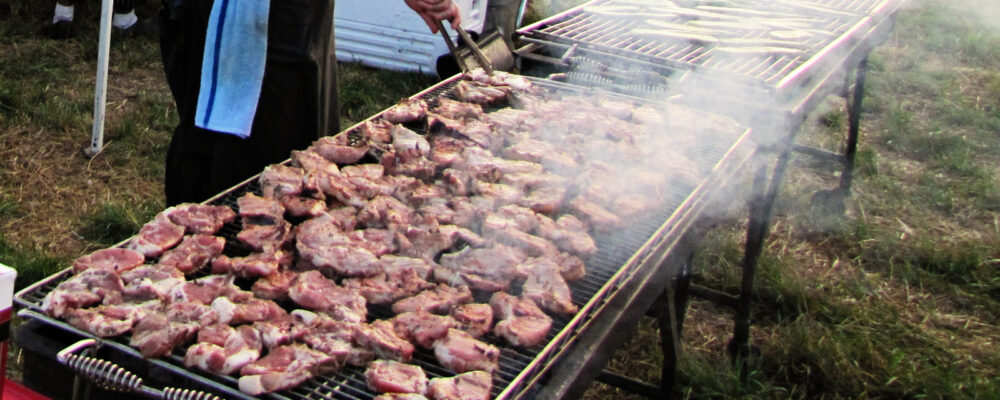 ---
[teaser_box title="General Principles"]Because pasture-raised meats are leaner and have less marbling than their grain-fed equivalents, they require a slightly different cooking style, especially if they are not to be dried out.  Here are a few tips to help keep your roast juicy and moist.
In general, the rule of thumb is low and slow.
Use a (digital) meat thermometer.  You will need to learn a new set of cooking timeframes with grass-fed meat, so use a thermometer as your guide to doneness.  If you don't already use a meat thermometer, now is a good time to buy one.  You can purchase a good quality, digital, quick read thermometer for about $15.00, which will give you a reading in a matter of seconds.  (Traditional dial-head ones can take up to a minute, which if  the meat requires further cooking, means it's spending at least 5 minutes out of the oven cooling down.)  Also, consult a temperature chart that gives the varying degrees of doneness within a category (for example, beef—rare, medium rare, medium, etc.).
Plan on oven rise. Meat continues to cook after it is removed from the oven, so in general you can pull your roast or turkey out 10 degrees below your target temperature.  Cover the meat with foil, though, and keep the oven on.  If the meat has not risen to the target temperature in 10 minutes, pop it back in the oven.
Salt, but salt early.  Some recipes tell you to salt, some warn you off from it—the key is the timing.  Salt acts a tenderizer in the meat, breaking down cellular walls.  It's especially good like for a tougher muscle-meat like chuck.  It starts with the exterior meat, since that's where it's directly applied, and then works to the interior.  So initially, salt will draw the juices and moisture out of the meat, but once it's worked its way in, the softened meat will reabsorb the juices.  Avoid soy sauce-based marinades because they tend to dry the meat out.  Use rubs and oil-based sauces.
Avoid a lot of piercing.  Remember: fat retains moisture in the meat.  Because grass-fed meat is lean, you want to keep those juices from escaping. Turn the meat with tongs or a metal spatula, use a thermometer to test for doneness rather than slicing the meat open, and anchor the meat with the back of the fork when carving
Cook low & slow.  Grass-fed meat is leaner than what we're accustomed to; so if you are not doing a quick sear on the outside for a rare inside, you want to cook it at lower temperatures.  If you are braising or stewing, really crank the heat down.  In general, think 30% faster and 50 degrees lower.
Rest the meat for 15 minutes.  Allowing the meat to rest once it's out of the oven lets the juices redistribute themselves.  Don't cut in till the meat is rested.
These are general guidelines for good practice and expectations.  For seasoning and temperature specifics, we recommend consulting a pasture-meats cookbook or website (Good Meats, The Grassfed Gourmet Cookbook, http://www.americangrassfed.org/recipes/ ).[/teaser_box]
---
---