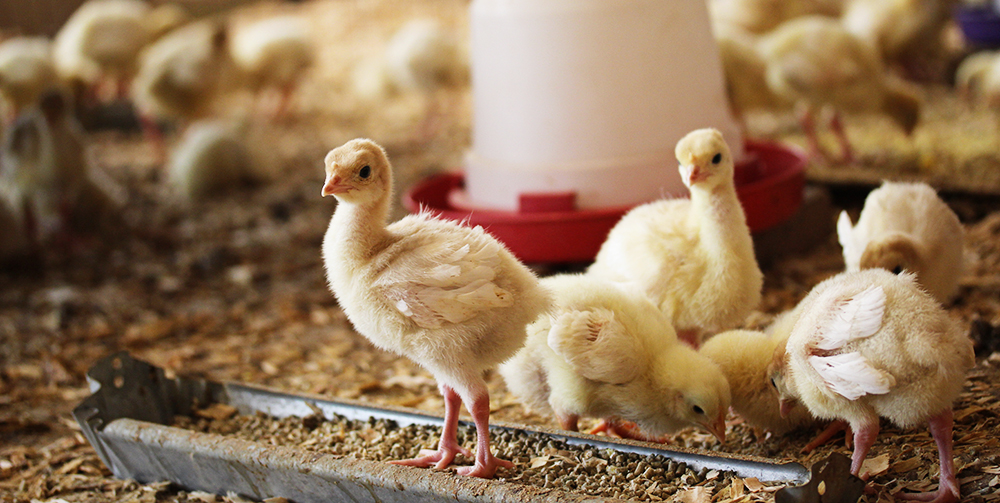 Toto, we're not in Kansas anymore . . .
Although cute as dandelions and brassy as tacks, turkey chicks are in fact not the brightest and are slow to adjust to life outside the egg. We receive our chicks the same day they are hatched, and for  their first three weeks of life, they live in a brooder, which simulates the warmth and protection of their mother's nest and wings.  After that, the poults are introduced to pasture.
One of the dangers in raising turkey chicks is the possibility of their "starving out," a condition where the chicks don't eat despite the presence of food.  This can happen for a couple of reasons. One is overcrowding–because there is not enough space in the brooder, some of the chicks can't make it to the feeder.  Not a problem on our farm!  A second reason for starving out, though, is simply not knowing how to eat out of a feeder–in this case, the chicks hang back from the food of their own accord.  To prevent this, we introduce young meat chickens into the brooder to "show them the ropes." The older birds teach the young poults how to eat from the feeder and drink from the waterer, the same way a mother cat teaches her kittens to transition from milk to kibble .  Another common trick is to decorate the poults' feeders with strips of shiny material.  The bossy little poults will jitter over to investigate, and pecking at the feeder introduces them to their food. In the poult world, it pays to be "nosy"!