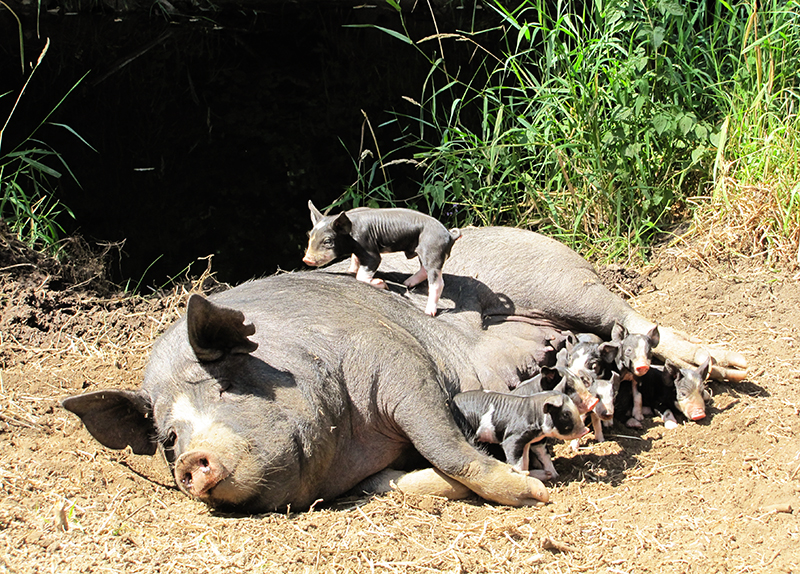 Black Hogs of Merrie England
Berkshire pigs have a romantic history. According to legend, they were first discovered by Roundheads in the early 17th Century during the English Civil War. The story goes that Oliver Cromwell's men came across a herd of the black and white pigs in the shire of the Berks, a county in southeastern England. ("Berk," fittingly enough for our hilly farm, derives from an Old Celtic word, "bearroc," or "hilly place.") The meat from the pigs was so amazing that they became the pork of choice of the British Royal family, and were raised near the Windsor estate. Herds of Berks are still maintained by rare breed societies in England, and in America and New Zealand. They are also raised in Kagoshima Prefecture in Japan, where they are known as "Kurobuta" ("Black Pigs") and prized for their meat.
Berks are black pigs with white "points," or small markings on their feet, tail, and snout. They are notable among pigs for the exceptional flavor and tenderness of their meat. Two facts explain this: their meat is short-fibered, and it marbles—i.e., develops intramuscular fat, like beef. In fact, their meat is darker than typical pork.
Berkshires are noted among farmers for their excellent mothering characteristics—they are gentle and calm when they give birth—and the fact that they do well outdoors, thriving in open settings. Berkshire pork is highly prized in restaurants and by chefs around the world because of its flavor. You will not however, find it in your typical grocery store. Because they have a slower growth rate and fattier meat due to the marbling, and because they do not adapt well to confinement, Berkshires are not the industry standard for pork. In 2008, they were listed as vulnerable because there were fewer than 300 known breeding sows.
All the more reason to support your local Berkshires!
Farrowing on Farm
The industry standard for farrowing, or birthing, pigs is to use a farrowing crate.  This is a metal upright enclosure with room enough for the sow to lie down but tight enough to prevent her from moving significantly (for example, turn around).  Metal slats on the sides keep the piglets separated from the sow but permit them to suckle.  The rationale behind farrowing crates is piglet safety–sows can be so exhausted in the first day or two after birth, and the piglets not yet aware of their surroundings, that the mothers may accidentally crush one of the piglets.
However, farrowing crates prevent both mother and young from birthing naturally.  How does a pig farrow in nature?  The sow separates herself from her herd and goes into a secluded area to root and pull together a nest.   At Champoeg Farm, in keeping with our pasture mentality, we prefer to allow both sow and piglets maximum freedom of movement in their natural environment.  Sows have been successfully giving birth in the wild for centuries before farrowing crates, and will continue to do so.  Studies have shown that farrowing crates can in fact increase a sow's likelihood of savaging or crushing her piglets due to increased frustration and inability to move.